The podcast "The Million in You" by Jon Talarico aims at teaching people to produce results they want in their life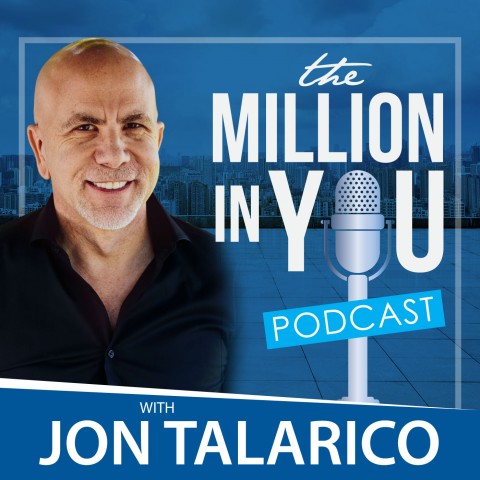 Hosted by Jon Talarico who is amongst the world's foremost experts on building business relationships and partnerships, "The Million in You" podcast is a show dedicated to finding the greatness within to live an extraordinary life without any regrets.
"The Million in You" podcast was launched recently on June 20, 2020, and is made with the purpose to help entrepreneurs and individuals change the world, one relationship at a time. As for now, there is only one episode that has been broadcasted that features one of the World's Greatest Motivational Speaker Mr. Les Brown. Each upcoming episode of the podcast will feature guests from around the world including the most successful people to help the listeners in learning the secrets of connecting with yourself, your message, and your community, by discovering your raw, ardent, and innate ability.
"I absolutely love this podcast. I'm so glad to see this message out there. I've known Jon for some time and his knowledge is simply amazing. The first episode alone is worth more than most products. Love it. I can't wait for more episodes", says one of the reviewers TryMyHardest, appreciating the hard work by the host on "The Million in You" podcast.
Jon Talarico has made a great impression on the listeners, right from the very first episode of the podcast by inviting Mr. Les Brown. The listeners already love the podcast and can't wait for more episodes to unveil. The podcast revolves around the concept where the highly known and experienced people share their real-life stories about how they were able to go from being unhappy and unfulfilled to living a life of purpose, passion, and motivation. Other guests will also share how they managed to overcome difficult situations and challenges in life by using various strategies, and how it can be applied to everyone so that they too can create a life that inspires people.
Jon's experience of working directly with some of the most powerful and influential business and thought leaders and celebrities have given a rather perfect and elite touch to this podcast. Jon wants nothing else for his listeners but to teach them to produce results they want from their life.
"The Million in You" podcast is all about spreading positivity and ardent vibes among the people who listen to it. Jon Talarico leaves no stone unturned in making the podcast nothing but the best for his listeners. This is why it is highly loved and supported by the fans.
Listen to "The Million in You" podcast on Apple Podcasts.
Media Contact
Company Name: Master Your Mind
Contact Person: Jon Talarico
Email: Send Email
Phone: 310-598-7400
Country: United States
Website: www.jontalarico.com