Pastor and Musician D. James Thomas is releasing debut single "Don't Worry", igniting faith in these crucial times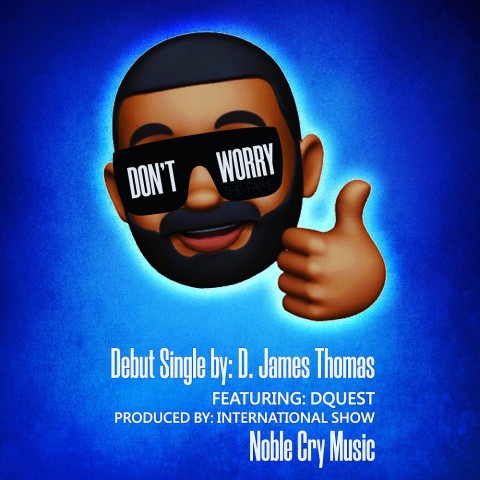 A Noble Cry music artist, and Final Flash Productions' talent, David James Thomas is setting examples as an all-rounder worldwide, be it as a pastor, a community leader, or a talented musician. With utmost faith in God, D. James wants to become an epitome of "God's Love". The Lead Pastor of Liberty Life Church, and now an emerging talented musician, D. James Thomas is rapidly paving his way through the music industry.
D. James Thomas is not new to the world of music. He has been on the radio and has done preaching and given performances in big cities like New York, Virgin Islands, Accra Ghana, Los Angeles, Australia, and many others. Along with his musical talents, he is a voice-over artist, keynote presenter, and a faith blogger. He is also leading the #findingyourfather movement in America.
With the release of his upcoming debut single "Don't Worry", D. James Thomas is set to enter into the music industry officially. "Don't Worry" is scheduled to get released on July 25, 2020. A sneak peek of the song is available on leading music platforms like YouTube and Apple Music, with which, D. James has already ignited the flames of his music among the listeners. This track also features talented artist DQuest, who has added to the charm of this beautiful song. All the D. James fans are eagerly waiting for this much-awaited release.
D. James Thomas has had the opportunity to not only perform locally but internationally. He has made appearances at places like Jamaica, Trinidad, Las Vegas, Nevada, Texas, Canada, and India. Growing up, he only had one dream in his mind, which was to become a pastor who plays in the NFL. But life had other plans for him. Due to some injury, he had to give up on his dream of playing in NFL, therefore, inspired by the likes of Bishop A. Livingston Foxworth, Bishop John Boarders, Pastor Tony Palow and Pastor Matthew Thompson, he decided to become an itinerate Evangelist.
Spending time in writing songs of worship and inspiration, D. James found himself drawn to the power of writing and making music. Eventually, his confidence in his skills led him to the release of his debut single "Don't Worry". "Don't Worry" will also be accompanied by a music video, featuring D. James Thomas and DQuest.
D. James urges his fans to stay tuned, as his debut release is just the beginning; there is much more music to come.
Listen to D. James Thomas music now on this LINK.
Media Contact
Company Name: D. James Thomas Ministries, INC/NOBLE CRY MUSIC
Contact Person: David Thomas
Email: Send Email
Phone: 617-999-9718
Country: United States
Website: www.libertylifechurch.net