Venous Thromboembolism Market Insights and Market Report by DelveInsight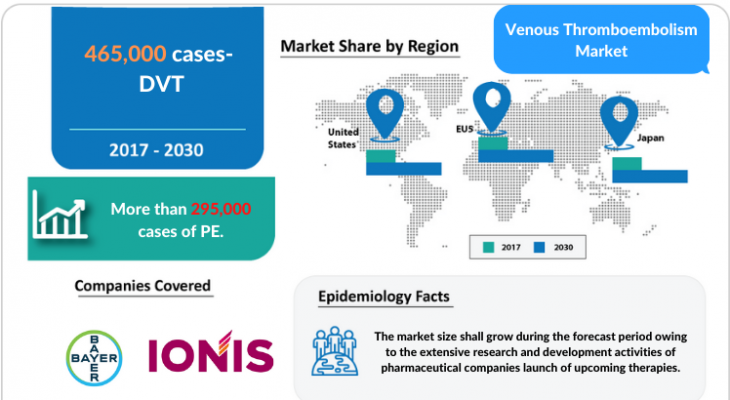 The Venous Thromboembolism market report provides current treatment practices, emerging drugs, Venous Thromboembolism market share of the individual therapies, current and forecasted Venous Thromboembolism market Size from 2017 to 2030 segmented by seven major markets. The Report also covers current Venous Thromboembolism treatment practice/algorithm, market drivers, market barriers and unmet medical needs to curate best of the opportunities and assesses the underlying potential of the market.
Venous Thromboembolism Overview
Venous Thromboembolism (VTE) is a disorder that includes Deep Vein Thrombosis (DVT) and Pulmonary Embolism (PE). A deep vein thrombosis (DVT) occurs when a blood clot forms in a deep vein, usually in the lower leg, thigh, or pelvis. A deep vein thrombosis may occur if the flow of blood slows down in the body's deep veins. A pulmonary embolism (PE) occurs when a clot breaks loose and travels through the bloodstream to the lungs.
Request sample copy- https://www.delveinsight.com/sample-request/venous-thromboembolism-market
List of regions covered in the report
The United States
EU5 (Germany, France, Italy, Spain, and the United Kingdom)
Japan
Venous Thromboembolism Market: Risk Factor
The leading risk factor for VTE is long-term hospitalization, and the risk is high in patients with respiratory and circulatory system complications. The most common types of surgery associated with VTE are orthopedic surgeries, especially knee and hip replacements.
Venous Thromboembolism Market: Symptoms
The signs and symptoms of VTE are not the same for everyone. Sometimes VTE does not cause symptoms until serious complications occur. In other cases, deep vein thrombosis causes swelling or discomfort near the blood clot. Pulmonary embolism can cause chest pain and difficulty breathing. Pulmonary embolism can be a life-threatening condition.
Venous Thromboembolism Market: Etiology
The etiology of VTE is not fully understood. It is a multifactorial condition involving genetic and both constant and transient acquired risk factors. Known acquired risks include chronic disease, cancer, obesity, and phospholipid antibodies, and advanced age.
Venous Thromboembolism Market: Diagnosis
The diagnosis of VTE is typically based on the medical history and assessment of risk for VTE by gathering information and asking questions about certain factors. Based on these, tests such as the d-dimer test, compression ultrasound (CUS), venography, CT angiography, ventilation-perfusion (V/Q) scan, pulmonary angiography, and magnetic resonance imaging (MRI) are referred.
Venous Thromboembolism Market: Insights
Venous thromboembolism is a life-threatening medical condition that requires immediate medical treatment. Treatment primarily focuses on breaking the clots and preventing the further formation of clots. Treatment of Venous Thromboembolism includes blood-thinning agents such as Medication (Anticoagulants, Thrombolytic Agents, Factor Xa Inhibitors, and Thrombin Inhibitors). Mechanical devices (compression stockings), and Surgical treatment (Pulmonary embolectomy, Vena cava interruption) are also used in an advanced stage of Venous thromboembolism.
Venous Thromboembolism Market: Size
The prophylactic setting is the major contributor of VTE market size due to a much higher patient pool than the treatment setting. Until recently, conventional VTE treatment consisted of a parenteral anticoagulant (such as unfractionated heparin [UFH], LMWH, or fondaparinux) overlapped with and followed by a vitamin K antagonist (VKA), such as warfarin.
Venous Thromboembolism Market: Report Highlights
Once anticoagulant therapy is stopped, up to 10% of people will experience a recurrence during the first year and associated with poor outcomes and significant mortality. The growth of the Venous Thromboembolism Market can be expected to be driven by the increased patient pool, improvement in the diagnosis rate owing to guidelines recommendations and government initiatives, and various advantages of DOACs.
Request sample copy- https://www.delveinsight.com/sample-request/venous-thromboembolism-market
Table of content
Key Insights
Executive Summary of Venous Thromboembolism
Competitive Intelligence Analysis for Venous Thromboembolism
Venous Thromboembolism: Market Overview at a Glance
Venous Thromboembolism: Disease Background and Overview
Patient Journey
Venous Thromboembolism Epidemiology and Patient Population
Treatment Algorithm, Current Treatment, and Medical Practices
Unmet Needs
Key Endpoints of Venous Thromboembolism Treatment
Marketed Products
Emerging Therapies
Venous Thromboembolism: Seven Major Market Analysis
Attribute analysis
7MM: Market Outlook
Access and Reimbursement Overview of Venous Thromboembolism
KOL Views
Market Drivers
Market Barriers
Appendix
DelveInsight Capabilities
Disclaimer
About DelveInsight
Venous Thromboembolism Market Report Scope
The report covers the descriptive overview of Venous Thromboembolism, explaining its causes, signs and symptoms, pathophysiology, diagnosis and currently available therapies
Comprehensive insight has been provided into the Venous Thromboembolism Epidemiology and treatment in the 7MM
Additionally, an all-inclusive account of both the current and emerging therapies for Venous Thromboembolism are provided, along with the assessment of new therapies, which will have an impact on the current treatment landscape
A detailed review of the Venous Thromboembolism market; historical and forecasted is included in the report, covering drug outreach in the 7MM
The report provides an edge while developing business strategies, by understanding trends shaping and driving the global Venous Thromboembolism market
Why should you buy this report?
The report will help in developing business strategies by understanding trends shaping and driving the Venous Thromboembolism market
To understand the future market competition in the Venous Thromboembolism market and Insightful review of the key market drivers and barriers
Organize sales and marketing efforts by identifying the best opportunities for Venous Thromboembolism in the US, Europe (Germany, Spain, Italy, France, and the United Kingdom), and Japan
Identification of strong upcoming players in the market will help in devising strategies that will help in getting ahead of competitors
Organize sales and marketing efforts by identifying the best opportunities for the Venous Thromboembolism market
To understand the future market competition in the Venous Thromboembolism market
About Us
DelveInsight is a Business Consulting and Market research company, providing expert business solutions for life science vertical and offering quintessential advisory services in the areas of R&D, Strategy Formulation, Operations, Competitive Intelligence, Competitive Landscaping, and Mergers & Acquisitions.
Media Contact
Company Name: DelveInsight Business Research LLP
Contact Person: Yash Bhardwaj
Email: Send Email
Phone: +919650213330
Address:304 S. Jones Blvd #2432
City: Las Vegas
State: NV
Country: United States
Website: https://www.delveinsight.com/