Chashama Presents, Fresh Off The Boat by Tarik Mendes from December 10th 2022, January 6th, 2023
Chashama Presents, Fresh Off The Boat by Tarik Mendes
227 West 29th Street, New York, NY 10001
Opening Reception: December 10th 2022 6:00pm-8:00pm
Closing Reception: January 6th, 2023 6:00pm-8:00pm
NEW YORK – December 16th, 2022 – Chashama is pleased to present an exhibition of new paintings, sculptures and functional sculptures by Brazilian artist Tarik Mendes in New York City. This is his first solo exhibition in New York City, focusing mostly on his prominent medium, net screen.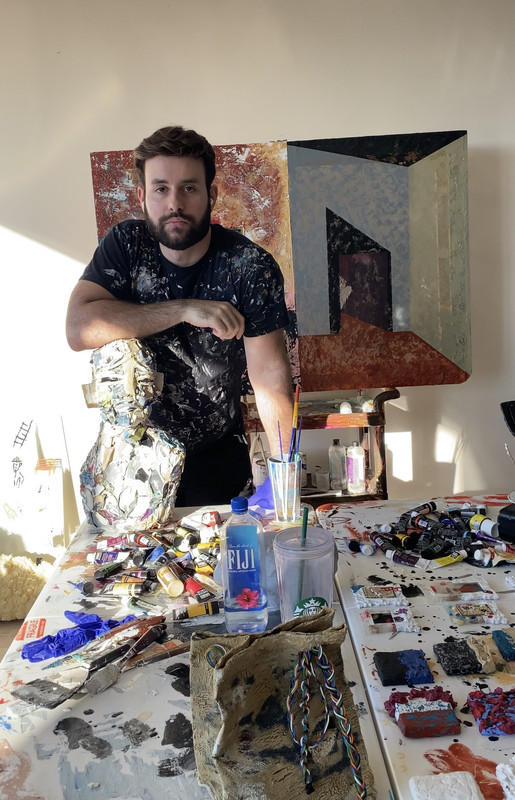 Mendes's painting will be shown along with his sculptures, functional sculptures and a pop up of wearable art and artsy stationery from both of his self founded company, TelaModa & TelaModaPrints. Simultaneously an EP will also be released on all streaming platform along with the exhibition.
Mendes will also be premiering his latest new venture "Tarik Functional Living" which consists of functional sculptural design pieces for all of lifestyles.
Tarik Mendes (°1992, Belo Horizonte, Brazil) creates paintings, drawings and sculptures. By emphasizing aesthetics, Mendes seduces the viewer into a world of ongoing equilibrium and the interval that articulates the good and the ugly of daily life. His works are notable for their textured finish and colorful nature. This is of great importance and bears witness to great craftsmanship. By applying abstraction, he considers making art a craft which is executed using clear formal rules and which should always refer to social reality. His works doesn't always reference recognizable forms. The results are deconstructed to the extent that meaning is shifted and possible interpretation becomes multifaceted. Tarik Mendes currently lives and works in NYC.
Tarik Mendes
Fresh Off The Boat
227 West 29th Street
New York, NY 10001
https://www.instagram.com/tarikmendes/
#tarikmendes
About Chashama:
Since 1995, Chashama has partnered with property owners to transform unused real estate for 30,000 artists and over 150 small businesses, hosted 4,000 public art events, provided 1,500 classes in under-served communities, and reached audiences of nearly a million.
To learn more, visit www.chashama.org
@chashama #chashama
Media Contact
Company Name: Tarik Mendes Art Studio
Contact Person: Tarik Mendes
Email: Send Email
Address:27 W 29th Street
City: New York
State: New York
Country: United States
Website: www.tarikmendes.com