Mangia NYC Launches Greek Yogurt Cup Line
NEW YORK – Dec 19, 2022 – Mangia NYC announced its four new bold yogurt flavor additions to its private label foods — The Mangia Yogurt Cups.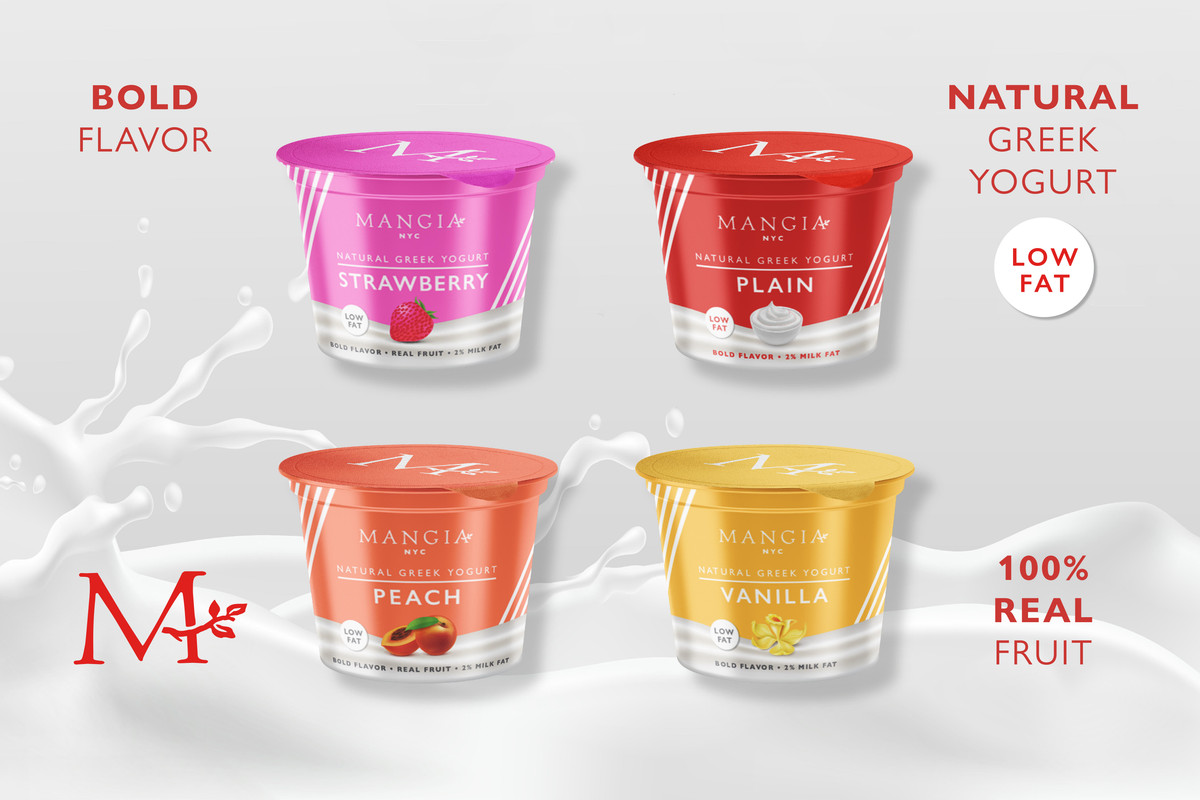 "We are proud to use only 100 percent natural ingredients and introduce to New Yorkers natural greek yogurt in a cup," Sasha Muniak, founder of Mangia NYC, said. "It is easy to eat at home, at the office or on the go! Our yogurts are bold in flavor, low fat, rich in protein and calcium."
Mangia Yogurt Cups come in Pakin, vanilla, strawberry, and peach flavors. Mangia NYC blends real fruit pieces into the yogurt that make the flavor unique and bold. The real fruit pieces give texture to the yogurt and make it interesting and slightly crunchy. It is also high in protein, vitamins and probiotics. There are no artificial flavors, it is non GMO, gluten free and kosher. It is produced locally while the formula comes from Greece from a family company that produces yogurts for generations
Every cup is made from simple ingredients, real fruit, zero added sugar, and no preservatives. Each specialty cup is perfectly balanced for a rich flavor and creamy texture and sells for $4.95. Add-ins like gluten-free granola and roast blueberries are available upon request.
All Mangia Yogurt Cups can be purchased in all Mangia stores in retail or via its professional catering services at https://www.mangia.nyc/.
"Mangia is also a business committed to sustainability and social responsibility," Muniak said. "We strive to reduce our impact on the environment, and carbon footprint. In addition, we believe in responsible water and waste water management, and to making improvements in our packaging. Our iconic red bags are now plastic-free."
For over 40 years, Mangia has been influencing how New Yorkers eat breakfast and lunch. In 1981, Founder Sasha Muniak became one the first restaurateurs to focus on fresh, farm-to-table ingredients. His first menu was Italian. It was inspired by his life experiences in Italy and other parts of Europe. Muniak's passion is food, and he has many signature favorites on his menus. Periodically, he likes to curate his menus according to the season by adding new items.
Follow Mangia NYC on
Instagram (@mangia_nyc_official),
Twitter (@mangia_nyc),
Facebook (MangiaNYC), and
Pinterest (managianyc).
Media representatives may arrange for an interview through the contact information below.
Contact:
Sasha Muniak, Founder
Mangia NYC
Phone: 212-980-6363
Address: 50 W. 57th St., New York, New York 10019
Website: https://mangia/nyc/
Media Contact
Company Name: Mangia NYC
Contact Person: Sasha Muniak, Founder
Email: Send Email
Phone: (212) 980-6363
Address:50 W 57th St
City: Manhattan
State: NEW YORK 10019
Country: United States
Website: https://mangia.nyc/