FreeTrade App Is Restoring Faith In Humanity Every Single Day
"A Man's Garbage is Another Man's Treasure!"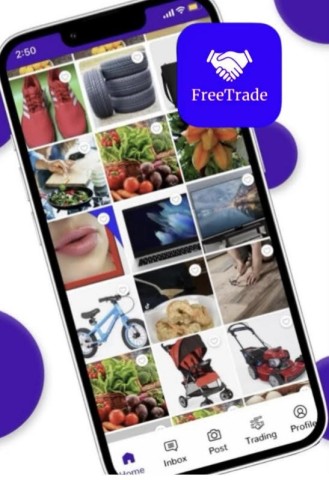 FreeTrade launched in November 2022 just at the right time so we can help each other out during this tough economy. The App was created by a Latin mother-daughter duo during the COVID-19 pandemic that brought the entire world down to their knees. During such a horrific time, something so basic such as toilet paper became a luxury to have. Some people had too much of this and none of that, yet couldn't help each other. That is how the concept of FreeTrade came into Vanessa's mind and later became a reality.
FreeTrade is the only platform available where one can easily trade as many goods or services for only $1.99 a month in all 50 states. For instance, if you need shoes, you can trade them for a pair of jeans. Let us assume that you do not have any other goods or money to trade with. In such a condition, you can offer your service (skills) to the receiver, e.g., washing their car, mowing the lawn, writing a paper, etc. FreeTrade comes with its own set of merits. You can easily get rid of something that you do not need anymore and make sure it reaches someone who needs it. Subscribe today and post pictures or videos of the goods and services that you're trading!
The App entices people to become eco-friendly working together as a community. You can easily trade your belongings instead of adding more waste to our planet. Your clothing that is no longer in use will not degrade in the soil for another 30-40 years. However, if traded it will contribute towards protecting our planet. Also, our fruits & vegetables from our garden won't go to waste anymore because you can post and trade them with those in need.
Additionally, you do not have to sell off your clothes, tools, furniture, toys, appliances, etc., at yard sales anymore. FreeTrade is extremely safe and secure. You do not have to worry about getting scammed through cash Apps either because you're trading not selling. If you trade you can also save your money for other things.
With so many benefits, FreeTrade is the one software designed for trading purposes only.
You can download the App on Android or iOS smartphones from your app store at:

Android – https://play.google.com/store/apps/details?id=com.freetrades
iOS – https://apps.apple.com/app/freetrade/id1638320706

Media Contact
Company Name: FreeTrade LLC
Contact Person: Vanessa Mendoza
Email: Send Email
Phone: (559) 467-6780
Country: United States
Website: FreeTrade.today