At 20.78 CAGR, Big Data as a Service (BDaaS) Market Size to hit US$ 120.7 Billion, by 2028 – Report by IMARC Group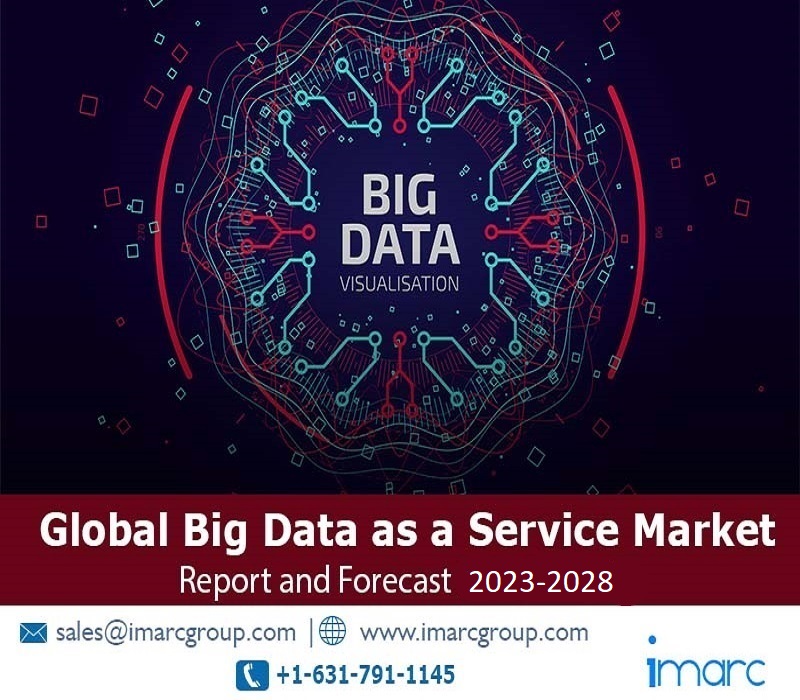 At 20.78 CAGR, Big Data as a Service (BDaaS) Market Size to hit US$ 120.7 Billion, by 2028 – Report by IMARC Group
The global big data as a service market is driven by the rising usage of data analytics solutions.
IMARC Group has recently released a new research study titled "Big Data as a Service Market: Global Industry Trends, Share, Size, Growth, Opportunity, and Forecast 2023-2028", offers a detailed analysis of the market drivers, segmentation, growth opportunities, trends, and competitive landscape to understand the current and future market scenarios.
What are the growth prospects of the Big data as a service industry?
The global big data as a service (BDaaS) market size reached US$ 38.6 Billion in 2022. Looking forward, IMARC Group expects the market to reach US$ 120.7 Billion by 2028, exhibiting a growth rate (CAGR) of 20.78% during 2023-2028.
What is Big data as a service (BDaaS)?
Big data as a service, also called BDaaS, is a cloud-based service related to the delivery of required tools or information based on statistical analysis that aids organizations in understanding and using the insights generated to enhance their efficiency. Big data as a service can be utilized as software that is operated by a team of data scientists. It generally relies on the internet or cloud storage to provide uninterrupted access to data. BDaaS decreases the efforts required to process data manually via a platform or an analytics program. It assists in real-time monitoring to improve workflows and operational efficiencies.
Request and get a sample brochure for free: https://www.imarcgroup.com/big-data-as-a-service-market/requestsample
Impact of COVID-19:
We are regularly tracking the direct effect of COVID-19 on the market, along with the indirect influence of associated industries. These observations will be integrated into the report.
List of Major Key Players:
Some of the key players Amazon.com, Inc. (AMZN) , Oracle Corporation (ORCL) Google Inc., Hewlett-Packard, SAP SE, Accenture, IBM, SAS Institute, Dell EMC, Teradata, Alteryx Ltd, Opera Solutions, Wipro, Information Builders and MicroStrategy Inc., etc.
What are the major market drivers in the Big data as a service market?
The expanding banking, financial services, and insurance sector (BFSI) across countries is primarily augmenting the big data as a service market. Furthermore, the increasing penetration of the internet and the development of the Internet of Things (IoT) are positively influencing the global market. Apart from this, the widespread adoption of big data as a service solution in the healthcare sector to get patient data as and when required to facilitate preventive measures during an emergency is acting as another significant growth-inducing factor.
Moreover, it is enabling organizations to effectively make data-driven decisions, which is also bolstering the market growth. Besides this, the rising utilization of BDaaS to minimize the upfront data storage, management, and infrastructure costs is further catalyzing the global market. Additionally, the escalating demand for cloud computing and the growing focus on R&D activities to introduce systems with improved security features are expected to fuel the big data as a service market in the coming years.
Ask Analyst for 10% free customized report: https://www.imarcgroup.com/request?type=report&id=1638&flag=C
Report Segmentation:
The report has segmented the market into the following categories:
By Solution:
Hadoop-as-a-Service (HDaaS)
Data-as-a-Service (DaaS)
Data Analytics-as-a-Service (DAaaS)
By Deployment Model:
Public Cloud
Private Cloud
By Platform Type:
JAVA
Microsoft
Oracle
SAP
Others
By Organization Size:
Small and Medium-Sized Enterprises
Large Enterprises
By Verticals:
BFSI
Healthcare
Retail
IT and Telecommunication
Manufacturing
Media and Entertainment
Others
By Geography:
North America (United States, Canada)
Europe (Germany, France, United Kingdom, Italy, Spain, Others)
Asia Pacific (China, Japan, India, Australia, Indonesia, Korea, Others)
Latin America (Brazil, Mexico, Others)
Middle East and Africa (United Arab Emirates, Saudi Arabia, Qatar, Iraq, Other)
Trending Reports in Technology Sector (Book Now with 10% Discount + COVID-19 Scenario):
Mobile Gaming Market: Global Industry Trends, Share, Size, Growth, Opportunity and Forecast 2022-2027
IIoT Market Size, Growth, Opportunity and Forecast 2023-2028
Barcode Scanner Market: Global Industry Trends, Share, Size, Growth, Opportunity and Forecast 2022-2027
Email Encryption Market: Industry Trends, Share, Size, Growth, Opportunity and Forecast 2022-2027
Engineering Services Outsourcing Market: Global Industry Trends, Share, Size, Growth, Opportunity and Forecast 2022-2027
Insurtech Market: Global Industry Trends, Share, Size, Growth, Opportunity and Forecast 2022-2027
Media Contact
Company Name: IMARC Group
Contact Person: Elena Anderson
Email: Send Email
Phone: +1-631-791-1145
Address:30 N Gould St Ste R
City: Sheridan
State: WY
Country: United States
Website: https://www.imarcgroup.com