EV Battery Swapping Market in India to Grow with Explosive Growth Rate in Near Future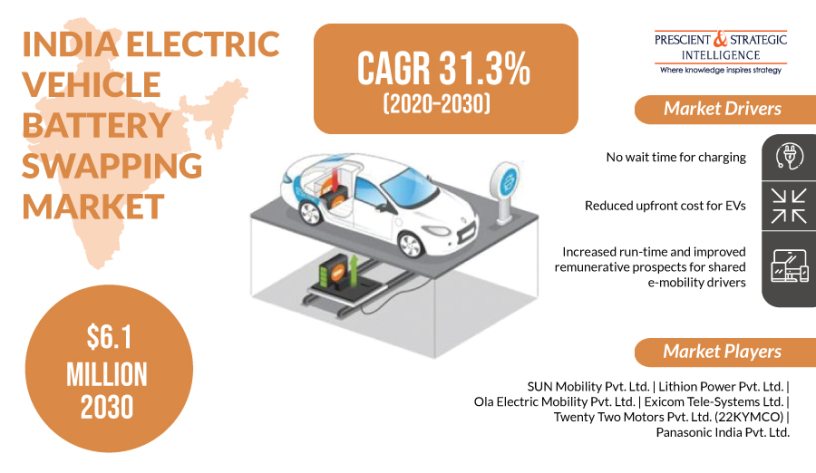 Demand for battery swapping technology in India growing due to increasing operational hours of electric three-wheelers
The demand for electric vehicles across the globe, including India, is growing rapidly, ascribed to the surging pollution levels and increasing awareness among people regarding the deteriorating condition of the environment. Initially, people were reluctant to buy electric vehicles, since their performance was not as good as conventional fuel-based vehicles. However, as the need for electric vehicles increased, automakers started focusing on improving the fuel efficiency of these vehicles. Because of these advancements, the life of electric vehicles has increased significantly and a larger number of people are now opting for these vehicles.
Download sample copy of this report: https://www.psmarketresearch.com/market-analysis/india-electric-vehicle-battery-swapping-market/report-sample
These factors are, in turn, leading to the growth of the Indian electric vehicle battery swapping market. One of the most important things to consider when it comes to electric vehicles is the charging time. The electric vehicle technology is still in the developing phase in India and slow charge systems are utilized for recharging the battery overnight. This takes up to 8 hours and even the on-board chargers take about 5–6 hours to charge an electric vehicle battery. Since this is a time-consuming ordeal, the battery swapping technology can significantly aid in solving this problem.
The Indian electric vehicle battery swapping market is predicted to generate a revenue of $6.1 million by 2030, exhibiting a 31.3% CAGR during the forecast period (2020–2030). When service type is taken into consideration, the market is divided into subscription model and pay-per-use model, between which, the subscription model division is predicted to advance at a faster pace in the years to come, as the growing utilization of battery swapping technology in commercial vehicles would result in the growing adoption of the subscription model in the country.
On the basis of vehicles type, the Indian electric vehicle battery swapping market is categorized into commercial vehicle, two-wheeler, and three-wheeler, as per a report by P&S Intelligence. Out of these, the three-wheeler category is expected to dominate the market during the forecast period and is predicted to hold over 90.0% share of the market in 2020. This can primarily be ascribed to the fact that the daily operational hours of these vehicles is rising, why is why, their batteries need to be recharged quickly for further use.
Browse full report at: https://www.psmarketresearch.com/market-analysis/india-electric-vehicle-battery-swapping-market
Market Size Breakdown by Segment
By Vehicle Type
Two-Wheeler

Pay-per-use model
Subscription model

Three-Wheeler

Pay-per-use model
Subscription model

Commercial Vehicle

Pay-per-use model
Subscription model
By Service Type
Pay-Per-Use Model
Subscription Model
Browse Other Related Report
EV Battery Swapping For Two- and Three-Wheeler Market – https://www.psmarketresearch.com/market-analysis/ev-battery-swapping-two-three-wheeler-market
EV Battery Swapping Market – https://www.psmarketresearch.com/market-analysis/ev-battery-swapping-market
Media Contact
Company Name: P&S Intelligence
Contact Person: Abhishek
Email: Send Email
Phone: +918887787886
Address:Noida Sector 2
City: Noida
State: UP
Country: India
Website: https://www.psmarketresearch.com/market-analysis/india-electric-vehicle-battery-swapping-market