Restless Legs Syndrome Pipeline Insight, 2021 by DelveInsight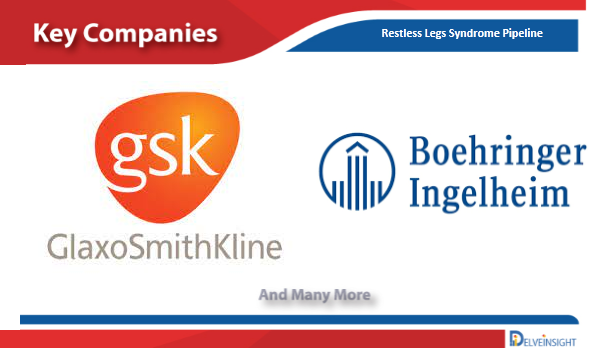 "Restless Legs Syndrome Pipeline" report has been added to DelveInsight
Restless Legs Syndrome Pipeline analysis across different stages of development (Phase III & Phase II), different emerging trends and comparative analysis of Restless Legs Syndrome pipeline products with detailed clinical profiles, key cross-competition, launch date along with product development activities
"Restless Legs Syndrome Pipeline Insights, 2021" report by DelveInsight outlays comprehensive insights of present clinical development scenario and growth prospects across the Restless Legs Syndrome market. A detailed picture of the Restless Legs Syndrome pipeline landscape is provided, which includes the disease overview and Restless Legs Syndrome treatment guidelines
Request free sample copy @ https://www.delveinsight.com/sample-request/restless-legs-syndrome-pipeline-insight
Restless Legs Syndrome Overview
Restless legs syndrome (RLS), also called Willis-Ekbom Disease, causes unpleasant or uncomfortable sensations in the legs and an irresistible urge to move them. Symptoms commonly occur in the late afternoon or evening hours, and are often most severe at night when a person is resting, such as sitting or lying in bed. They also may occur when someone is inactive and sitting for extended periods (for example, when taking a trip by plane or watching a movie)
Restless Legs Syndrome Pipeline: By Regions
Restless Legs Syndrome Key Players
GlaxoSmithKline
Boehringer Ingelheim
American Regent
Bioprojet Pharma
And many others
Enacarbil (Horizant)
Pramipexole (Mirapex)
Injectafer
BPI 4979
And many others
Restless Legs Syndrome Symptoms
Since symptoms can increase in severity during the night, it could become difficult to fall asleep or return to sleep after waking up. Moving the legs or walking typically relieves the discomfort but the sensations often recur once the movement stops. RLS is classified as a sleep disorder since the symptoms are triggered by resting and attempting to sleep, and as a movement disorder, since people are forced to move their legs in order to relieve symptoms. It is, however, best characterized as a neurological sensory disorder with symptoms that are produced from within the brain itself.
Restless Legs Syndrome Causes
RLS is one of several disorders that can cause exhaustion and daytime sleepiness, which can strongly affect mood, concentration, job and school performance, and personal relationships. Many people with RLS report they are often unable to concentrate, have impaired memory, or fail to accomplish daily tasks. Untreated moderate to severe RLS can lead to about a 20 percent decrease in work productivity and can contribute to depression and anxiety. It also can make traveling difficult.
Restless Legs Syndrome Treatment
RLS can be treated, with care directed toward relieving symptoms. Moving the affected limb(s) may provide temporary relief. Sometimes RLS symptoms can be controlled by finding and treating an associated medical condition, such as peripheral neuropathy, diabetes, or iron deficiency anemia.
Restless Legs Syndrome Diagnosis
A diagnosis of RLS does not indicate the onset of another neurological disease, such as Parkinson's disease. In addition, some individuals have remissions—periods in which symptoms decrease or disappear for days, weeks, months, or years—although symptoms often eventually reappear. If RLS symptoms are mild, do not produce significant daytime discomfort, or do not affect an individual's ability to fall asleep, the condition does not have to be treated.
Other Restless Legs Syndrome Treatment Options
Iron: For individuals with low or low-normal blood tests called ferritin and transferrin saturation, a trial of iron supplements is recommended as the first treatment. Iron supplements are available over-the-counter. A common side effect is upset stomach, which may improve with use of a different type of iron supplement. In some people, iron supplementation does not improve a person's iron levels. Others may require iron given through an IV line in order to boost the iron levels and relieve symptoms.
Anti-seizure drugs: Anti-seizure drugs are becoming the first-line prescription drugs for those with RLS. Examples include gabapentin enacarbil (Horizant, GlaxoSmithKline), gabapentin (Neurontin, Pfizer) and pregabalin (Lyrica, Pfizer).The FDA has approved gabapentin enacarbil for the treatment of moderate to severe RLS. Recent studies have shown that pregabalin is as effective for RLS treatment as the dopaminergic drug pramipexole, suggesting this class of drug offers equivalent benefits.
Dopaminergic agents: These drugs, which increase dopamine effect, are largely used to treat Parkinson's disease. They have been shown to reduce symptoms of RLS when they are taken at nighttime. The FDA has approved ropinirole (Requip, GlaxoSmithKline), pramipexole (Mirapex, Boehringer Ingelheim) and rotigotine (Neupro, UCB, Inc.) to treat moderate to severe RLS.
Opioids: Drugs such as methadone, codeine, hydrocodone, or oxycodone are sometimes prescribed to treat individuals with more severe symptoms of RLS who did not respond well to other medications.
Benzodiazepines: These drugs can help individuals obtain a more restful sleep. Benzodiazepines such as clonazepam and lorazepam are generally prescribed to treat anxiety, muscle spasms, and insomnia.
Restless Legs Syndrome Emerging Therapy Assessment
Ongoing industrial clinical trials are investigating a very few / limited therapies for Restless Legs Syndrome treatment. The current pipeline for Restless Legs Syndrome does not hold many significant products, it has very few products which are being developed by certain key players. A few of the potential emerging therapy for Restless Legs Syndrome include BPI 4979 (Bioprojet Pharma), Injectafer (American Regent) and Luye Pharma Goup among others.
Request free sample copy @ https://www.delveinsight.com/sample-request/restless-legs-syndrome-pipeline-insight
List of Table of content
1. Report Introduction
2. Restless Legs Syndrome
3. Restless Legs Syndrome Current Treatment Patterns
4. Restless Legs Syndrome – DelveInsight's Analytical Perspective
5. Therapeutic Assessment
6. Restless Legs Syndrome Late Stage Products (Phase-III)
7. Restless Legs Syndrome Mid Stage Products (Phase-II)
8. Early Stage Products (Phase-I)
9. Pre-clinical Products and Discovery Stage Products
10. Inactive Products
11. Dormant Products
12. Restless Legs Syndrome Discontinued Products
13. Restless Legs Syndrome Product Profiles
14. Restless Legs Syndrome Key Companies
15. Restless Legs Syndrome Key Products
16. Dormant and Discontinued Products
17. Restless Legs Syndrome Unmet Needs
18. Restless Legs Syndrome Future Perspectives
19. Restless Legs Syndrome Analyst Review
20. Appendix
21. Report Methodology
What are key questions?
What are the current options for Restless Legs Syndrome treatment?
How many companies are developing therapies for the treatment of Restless Legs Syndrome?
What are the principal therapies developed by these companies in the industry?
How many therapies are developed by each company for the treatment of Restless Legs Syndrome?
How many Restless Legs Syndrome emerging therapies are in early-stage, mid-stage, and late stage of development for the treatment of Restless Legs Syndrome?
Out of total pipeline products, how many therapies are given as a monotherapy and in combination with other therapies?
What are the key collaborations (Industry-Industry, Industry-Academia), Mergers and acquisitions, and major licensing activities that will impact Restless Legs Syndrome market?
Which are the dormant and discontinued products and the reasons for the same?
What is the unmet need for current therapies for the treatment of Restless Legs Syndrome?
What are the recent novel therapies, targets, mechanisms of action and technologies developed to overcome the limitation of existing Restless Legs Syndrome therapies?
What are the clinical studies going on for Restless Legs Syndrome and their status?
What are the results of the clinical studies and their safety and efficacy?
What are the key designations that have been granted for the emerging therapies for Restless Legs Syndrome?
How many patents are granted and pending for the emerging therapies for the treatment of Restless Legs Syndrome?
Restless Legs Syndrome Research Methodology
The objective of updating DelveInsight coverage is to ensure that it represents the most up-to-date vision of the industry possible. The DelveInsight is a fully integrated solution for comprehensive intelligence on various pharmaceutical products, both in the market and in the pipeline, across the globe.
About DelveInsight
DelveInsight is a Business Consultant company and serves as a Knowledge partner across the value chain of the Pharmaceutical Industry. With the use of proprietary databases and analytical models, DelveInsight provides cutting-edge market and pipeline analysis and API intelligence across all therapy areas to the Pharma and biotech sector, helping clients to quantify market events and evaluate their impact on the valuation of products, portfolios, and companies.
Contact us
Shruti Thakur
+91-9650213330
Media Contact
Company Name: DelveInsight Business Research LLP
Contact Person: Yash Bhardwaj
Email: Send Email
Phone: +919650213330
Address:304 S. Jones Blvd #2432
City: Las Vegas
State: NV
Country: United States
Website: https://www.delveinsight.com/